Call for papers, deadline 21 July 2019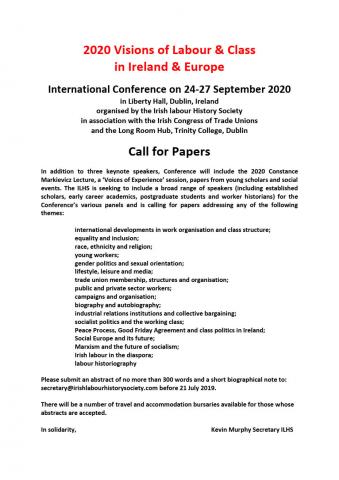 2020 Visions of Labour & Class in Ireland & Europe
International Conference on 24-27 September 2020 in Liberty Hall, Dublin, Ireland
organised by the Irish labour History Society in association with the Irish Congress of Trade Unions and the Long Room Hub, Trinity College, Dublin
Call for Papers
In addition to three keynote speakers, Conference will include the 2020 Constance Markievicz Lecture, a 'Voices of Experience' session, papers from young scholars and social events. The ILHS is seeking to include a broad range of speakers (including established scholars, early career academics, postgraduate students and worker historians) for the Conference's various panels and is calling for papers addressing any of the following themes:
international developments in work organisation and class structure;
equality and inclusion;
race, ethnicity and religion;
young workers;
gender politics and sexual orientation;
lifestyle, leisure and media;
trade union membership, structures and organisation;
public and private sector workers;
campaigns and organisation;
biography and autobiography;
industrial relations institutions and collective bargaining;
socialist politics and the working class;
Peace Process, Good Friday Agreement and class politics in Ireland;
Social Europe and its future;
Marxism and the future of socialism;
Irish labour in the diaspora;
labour historiography
Please submit an abstract of no more than 300 words and a short biographical note to: secretary@irishlabourhistorysociety.com before 21 July 2019.
There will be a number of travel and accommodation bursaries available for those whose abstracts are accepted.

In solidarity,
Kevin Murphy
Secretary ILHS