Call for papers, deadline 30 July 2019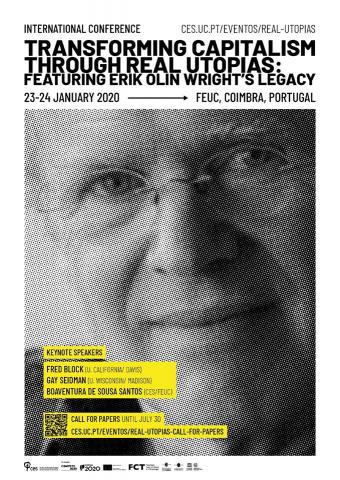 Transforming Capitalism through Real Utopias. Featuring Erik Olin Wright's legacy
January 23 and 24, 2020
Faculty of Economics of the University of Coimbra >> CALL FOR PAPERS until July 30
The Center for Social Studies at the University of Coimbra is organizing an International Conference around the legacy of American neo-Marxist sociologist Erik Olin Wright, who unfortunately passed away recently. With the expected participation of some of his most prominent fellow social scientists, this Conference will mark the date of the first anniversary of his disappearance and it will be organized around major theoretical pillars articulating Olin Wright's academic career: class analysis, capitalism critique and real utopias. These three major lines unfold a series of diverse themes that will lead to a group of panel sessions coordinated by guest specialists. In articulation with the Conference organizers, these specialists will be responsible for the thematic planning and the selection of the participants' proposals. All participants are invited to deliver papers from which a selection will be published in a couple of indexed periodicals, and in a book by a distinguished international press. Following some of Olin Wright's titles, we suggest five subareas for these panels: (1) "Real Utopias"; (2) "Class Analysis"; (3) "Genderlessness"; (4) "Wealth and Income Inequalities"; (5) "Changing the Capitalist State".
 
Programme:
23 January 2020
9:00h | Reception of participants
10:00h | Opening Session
CES Director; The School of Economics (FEUC) Dean; The University of Coimbra Rector
11:00h – 12:30h | 1st Plenary Lecture:
«Challenging capitalism: what class struggles?»
Keynote speaker: Fred Block (U. California/Davis)
12:30h – 14:00h – Lunch
14:00h – 17:00h: simultaneous thematic panels
17:30h – 19:00h | 2nd Plenary Lecture: 
«Genderless and inequality struggles»
Keynote Speaker: Gay Seidman (U. Wisconsin/ Madison)
24 January 2020
9:00h – 11:30h: simultaneous thematic panels
12:00h- 13:30h | 3rd Plenary Lecture:
«Real utopias and emancipation challenges»
Keynote Speaker: Boaventura de Sousa Santos (CES/FEUC)
THEMATIC PANELS (NB: Proposals must be ofered to one of these topics):
1. Real Utopias
2. Class Analysis
3. Genderlessness
4. Wealth and Income Inequalities
5. Changing the Capitalist State
The working languages are Portuguese and English.
You can find the submission form here.
 
Deadlines and registration fees:
Deadlines
Until 31 Oct. 2019 - 50 € (Non-students); 25 € (Students or unemployed)
From 1 Nov to 20 Dec 2019 - 75 € (Non-students); 35 € (Students or unemployed)
From 21 Dec to 23 Jan 2020 - 100 € (Non-students); 45 € (Students or unemployed)
PAPERS (*):
Until 30 July 2019 - Abstracts (characters: 4000 max.)
By 15 October 2019 - Abstracts acceptance information (thematic sessions)
(*) – Authors of proposals accepted must register and pay according to the same criteria.

More information: eow@ces.uc.pt
Scientific Commitee (**):
Ana Paula Marques (U.Minho), Anália Torres (ISCSP), António M. Guedes Branco (FCHS-UAlg), António Casimiro Ferreira (CES/FEUC), Adriana Bebiano (CES/FLUC), António Firmino da Costa (ISCTE-IUL), Bruno Sena Martins (CES), Celi Scalon (UFRJ), Domingos Vaz (UBI), Filipe Carreira da Silva (ICS), Isabel Estrada Carvalhais (U.Minho), João Rodrigues (CES/FEUC), João Teixeira Lopes (FLUP), Miguel Chaves (UNL), José Manuel Mendes (CES/FEUC), José Maria Castro Caldas (CES-Lisboa), Paula Varela (U. Buenos Aires), Renato Carmo (ISCTE/CoLABOR), Gilberta Rocha (U. Açores), Ricardo Antunes (UNICAMP), Rosalina Costa (U.Évora), Rosário Mauritti (ISCTE), Rui Bebiano (CES/FLUC), Ruy Braga (USP), Sara Falcão Casaca (SOCIUS/ISEG), Sílvia Ferreira (CES/FEUC), Virgínia Ferreira (CES/FEUC)
(**) The members of the scientif commitee will be invited to participate in the selection of the submited proposals for the thematic pannels. They will also be expected to give their own papers for publication.

Organizing Commitee:
Elísio Estanque (CES/FEUC - coord.), Pedro Góis (CES/FEUC), Graça Capinha (CES/FLUC), Daniel Neves (FEUC), Cláudia Pato de Carvalho (CES), Madalena Duarte (CES)