Call for papers, deadline 12 September 2019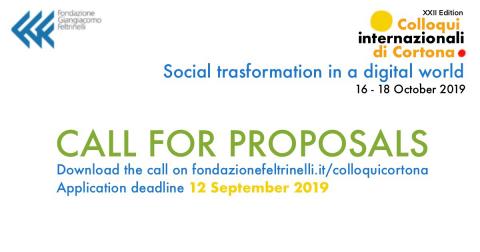 Fondazione Giangiacomo Feltrinelli is currently shaping the twenty-second edition of the Cortona Colloquium. In 1985 the Foundation established a long-term agreement with the Municipality of Cortona and the Tuscany Region, aimed at hosting an international event, in which scholars and researchers had the opportunity to submit proposals for participation and to investigate, in an interdisciplinary confrontation, on the great themes of history, social and political theory.
The next Colloquium will take place on 16–18 October 2019 in Cortona, a lovely medieval city in Tuscany.
This year's edition will be focused on the role of human capital and in particular on digital citizenship, education and human development, entrepreneurship and local development.
A selection of young 30 European researchers and scholars is invited to explore these themes, interacting with international keynote speakers and business and innovation stakeholders.

Please find at the following link the Call for proposals. The call is directed to researchers, PHD students, practitioners, journalists (under 38) and applications are open up to September 12th.
More info here: http://fondazionefeltrinelli.it/eventi/colloquicortona/