Obituary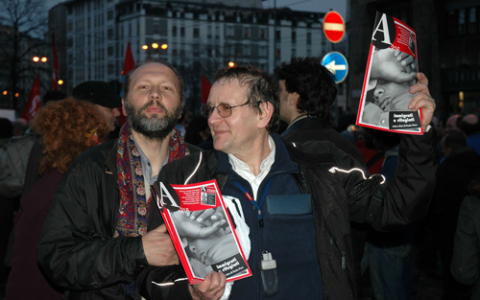 On July the 20th, 2020, Paolo Finzi, friend and comrade through many struggles, took his own life.
Born in Milan in 1951, since the mid-Seventies he has been responsible, together with his partner Aurora Failla, of monthly magazine «A rivista anarchica», which he contributed to found as well. He was also a founding member of Centro Studi Libertari / Archivio G. Pinelli.
Paolo, for more than half a century, was one of the central figures of the Milanese and Italian anarchist movement. In 1968, after meeting Giuseppe Pinelli, he joined his group, Bandiera Nera, and began to participate in the anarchist circle Ponte della Ghisolfa. On December 12 1969 he was the youngest among those arrested following the bombing in Piazza Fontana in Milan. In February 1971 he founded «A rivista anarchica» together with Amedeo Bertolo, Fausta Bizzozero, Rossella di Leo, Luciano Lanza, Nico Berti and Roberto Ambrosoli. In 1976 he was also among the founders of Centro Studi Libertari / Archivio G. Pinelli.
Untiring publicist, he also authored books, such as that on Sicilian anarchist Alfonso Failla (Insuscettibile di ravvedimento. L'anarchico Alfonso Failla (1906-1986): carte di polizia, scritti, testimonianze, La Fiaccola, Ragusa, 1993) and on Errico Malatesta (La nota persona. Errico Malatesta in Italia (dicembre 1919 – luglio 1920), La Fiaccola, Ragusa, 1990), and a number of dossiers on various anarchist personalities such as Emilio Canzi, Giuseppe Pinelli, Franco Serantini. As the coordinator of publishing cooperative Editrice A he published and edited Che non ci sono poteri buoni. Il pensiero (anche) anarchico di Fabrizio De André, Milan, 2018, and Farò del mio peggio. Cronache anarchiche a fumetti, Milan, 2019, on the legacy of anarchist comic characher Anarchik. Friend of Dori Ghezzi and the late Fabrizio De André, he edited CDs, DVDs and other publications on the Genoese singer-songwriter and his legacy, after his passing. Over the years he has tirelessly organized and promoted hundreds of conferences on the many facets of anarchist thought and action, and also on subjects dear to him such as the poetics of De André and the culture and persecution of Roma and Sinti people.
In the photo, Paolo, in the guise of indefatigable propagandist for «A» magazine, is portrayed together with longtime Centro Studi collaborator Gianfranco Aresi (1957-2016), during the demonstration to reposition the original commemorative plaque set by Milanese anarchists and democrats in memory of Pinelli in Piazza Fontana in 1977, which had just been removed by the Albertini's city administration in 2006.