Event, 7 October 2023, Amsterdam, The Netherlands (in Dutch)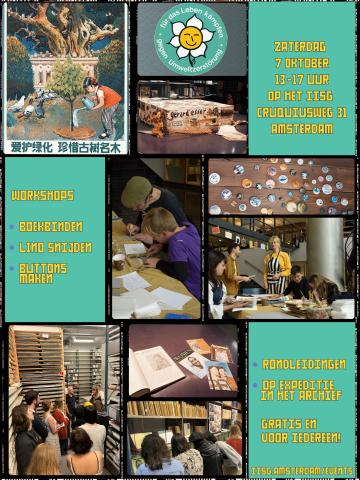 Op zaterdag 7 oktober opent het IISG de deuren voor iedereen die zin heeft in geschiedenis. Ga op onderzoek uit tijdens de expeditie en ontdek de geheimen van het archief! 
Eureka, ik heb het gevonden! In het archief gebeurt het maar al te vaak dat je iets moois, spannends of geks ontdekt. Maar hoe doe je onderzoek naar het verleden? Wat vonden mensen vroeger belangrijk? Kruip in de huid van een historicus tijdens de expeditie, ga op zoek naar antwoorden in boeken, op posters en foto's en ontcijfer het handschrift in oude brieven. De expeditie begint op de studiezaal van het IISG, en leid je tot diep in het archiefdepot.
De expeditie is voor kinderen vanaf 8 jaar. Ouders en verzorgers mogen natuurlijk mee op expeditie, maar kunnen ook meegaan met één van de rondleidingen door het IISG.
Dit evenement vindt plaats in het kader van de Maand van de Geschiedenis en het Weekend van de Wetenschap.
Praktisch
Datum: Zaterdag 7 oktober 2023
Tijd: 13:00-17:00
Adres: Cruquiusweg 31, Amsterdam
Kosten: Gratis