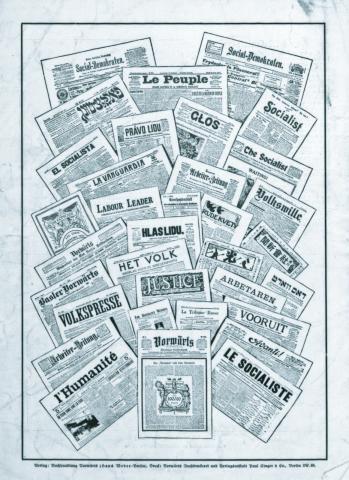 This is a list of newspapers/journals of social democratic parties in the years of the Second International (1889-1914) that are accessible online, for free.
The list is a work-in-progress, and we expect to enlarge it with more titles. Please let us know at info@socialhistoryportal.org about other links that we might include. Please also inform us if you notice a broken link.
ARCHIVES OF THE SECOND INTERNATIONAL
Collection of agenda, circulars, tickets of admission, reports, drafts of resolutions, statements and press clippings: on congresses and conferences 1889-1922; on the International Socialist Bureau 1899-1914, 1919-1921; on women's conferences 1907, 1910, 1915-1916.
https://search.iisg.amsterdam/Record/ARCH01299
ARGENTINA
La Vanguardia: https://cehti.org/la-vanguardia/
Revista Socialista Internacional: https://americalee.cedinci.org/portfolio-items/revista-socialista-inter…
AUSTRALIA
The Socialist (Melbourne): https://trove.nla.gov.au/newspaper/title/1322#
International Socialist (Sydney): https://trove.nla.gov.au/newspaper/title/491
The Tocsin: https://trove.nla.gov.au/newspaper/title/961
The People (Sydney): https://trove.nla.gov.au/newspaper/title/497
The Australian Workman: http://nla.gov.au/nla.news-title1051
The Worker (Brisbane): http://nla.gov.au/nla.news-title191
AUSTRIA
Arbeiter-Zeitung: http://anno.onb.ac.at/cgi-content/anno?aid=aze
Der Kampf: http://anno.onb.ac.at/cgi-content/anno-plus?aid=dks
BELGIUM
Vooruit: http://opac.amsab.be/Record/Tijdschriften_400000183/HierarchyTree?recor…
Le Peuple: https://opac.kbr.be/Library/doc/SYRACUSE/16155305/
DENMARK
Demokraten: https://www2.statsbiblioteket.dk/mediestream/avis/list/doms_newspaperAu…
Social-Demokraten: https://www2.statsbiblioteket.dk/mediestream/avis/list/doms_newspaperAu…
FINLAND
Työmies: https://digi.kansalliskirjasto.fi/sanomalehti/titles/fk14802/data?set_l…
Kansan Lehti: https://digi.kansalliskirjasto.fi/sanomalehti/titles/fk19511/data
Itä-Suomen Työmies: https://digi.kansalliskirjasto.fi/sanomalehti/titles/fk10129/data
Länsisuomen Työmies: https://digi.kansalliskirjasto.fi/sanomalehti/titles/fk10276/data
Työ: https://digi.kansalliskirjasto.fi/sanomalehti/titles/fk14794/data
Itä-Hämeen raivaaja: https://digi.kansalliskirjasto.fi/sanomalehti/titles/fk10121/data
Sosialistinen Aikakauslehti: https://digi.kansalliskirjasto.fi/aikakausi/titles/fk01113?display=THUM…
Eteenpäin: https://digi.kansalliskirjasto.fi/sanomalehti/titles/fk14940/data
Oikeus: https://digi.kansalliskirjasto.fi/sanomalehti/titles/fk10317/data
Yhdenvertaisuus: https://digi.kansalliskirjasto.fi/sanomalehti/titles/fk14894/data
Savon Työmies: https://digi.kansalliskirjasto.fi/sanomalehti/titles/fk10445/data
Kansan Tahto: https://digi.kansalliskirjasto.fi/sanomalehti/titles/fk10173/data
Työläisnainen: https://digi.kansalliskirjasto.fi/aikakausi/titles/fk01892?display=THUM…
Rajavahti: https://digi.kansalliskirjasto.fi/sanomalehti/titles/fk10401/data
Työläinen: https://digi.kansalliskirjasto.fi/sanomalehti/titles/fk14799/data
Sorretun Voima: https://digi.kansalliskirjasto.fi/sanomalehti/titles/fk25048/data
Sosialisti: https://digi.kansalliskirjasto.fi/sanomalehti/titles/fk10460/data
Hämeen Voima: https://digi.kansalliskirjasto.fi/sanomalehti/titles/fk10105/data
Vapaa Sana: https://digi.kansalliskirjasto.fi/sanomalehti/titles/fk14854/data
Sosialidemokraatti: https://digi.kansalliskirjasto.fi/sanomalehti/titles/fk10459/data
Vapaus: https://digi.kansalliskirjasto.fi/sanomalehti/titles/fk14860/data
Raivaaja: https://digi.kansalliskirjasto.fi/sanomalehti/titles/fk10397/data
Kansan Ääni: https://digi.kansalliskirjasto.fi/sanomalehti/titles/fk10180/data
Arbetaren: https://digi.kansalliskirjasto.fi/sanomalehti/titles/1458-0527/data
Social-Demokraten: https://digi.kansalliskirjasto.fi/sanomalehti/titles/fk25055/data
FRANCE
L'Humanité: https://gallica.bnf.fr/ark:/12148/cb327877302/date
La Petite République: https://gallica.bnf.fr/ark:/12148/cb345185020/date
La Revue Socialiste: https://gallica.bnf.fr/ark:/12148/cb32861464v/date&rk=21459;2
Le Mouvement Socialiste: https://gallica.bnf.fr/ark:/12148/cb34425483v/date&rk=21459;2
Le Socialiste: https://www.retronews.fr/titre-de-presse/socialiste
La Vie Socialiste: https://gallica.bnf.fr/ark:/12148/cb328893836/date&rk=21459;2
Le Devenir Social: https://gallica.bnf.fr/ark:/12148/cb34387909c/date&rk=21459;2
GERMANY
Berliner Volksblatt: http://fes.imageware.de/fes/web/
Berliner Volks-Tribüne: http://fes.imageware.de/fes/web/
Danziger Volksstimme: http://library.fes.de/inhalt/digital/danziger-volksstimme.htm
Danziger Volkswacht: http://library.fes.de/inhalt/digital/danziger-volkswacht.htm
Der Funke: http://library.fes.de/inhalt/digital/funke/funke.html
Der wahre Jacob: https://digi.ub.uni-heidelberg.de/diglit/wj
Die Arbeiterin: http://fes.imageware.de/fes/web/
Die Gleichheit: http://fes.imageware.de/fes/web/
Die Neue Zeit: http://library.fes.de/nz/index.html
Leipziger Volkszeitung: https://digital.slub-dresden.de/werkansicht/dlf/141582/1/
Lübecker Volksbote: http://library.fes.de/inhalt/digital/volksbote-luebeck.htm
Sozialistische Monatshefte: http://library.fes.de/sozmon/index.html
Volksstimme (Magdeburg): http://library.fes.de/inhalt/digital/volksstimme-magdeburg.htm
Vorwärts: http://fes.imageware.de/fes/web/
ITALY
Avanti: https://avanti.senato.it/controller.php?page=archivio-pubblicazione
La lotta di classe: http://bibliotecadigitale.fondazionebasso.it/?c=lotta&cont=1
Rassegna socialista: http://bibliotecadigitale.fondazionebasso.it/?c=1893&cont=1
Propaganda: http://bibliotecadigitale.fondazionebasso.it/?c=propaganda&cont=1
Critica Sociale: http://www.bibliotecaginobianco.it/?e=flip&id=12&t=elenco-flipping-Crit…
Il Socialismo: http://www.bibliotecaginobianco.it/?e=flip&id=16&t=elenco-flipping-Il+S…
NETHERLANDS
De Tribune: https://bit.ly/3ckshyg
De Nieuwe Tijd: https://bit.ly/3t6awIU
Het Volk (Amsterdam) https://bit.ly/2YkXokL
SERBIA
Radničke novine: http://www.unilib.rs/istorijske-novine/pregled-lat?category=PREWWI&newspaper=NLS_00001
SPAIN
El Socialista: http://archivo.fpabloiglesias.es/index.php?r=hemeroteca/ElSocialista
SWEDEN
Social-Demokraten: https://tidningar.kb.se/?q=social-demokraten&newspaper=SOCIALDEMOKRATEN…
SWITZERLAND
La Sentinelle: https://www.e-newspaperarchives.ch/?a=cl&cl=CL1&e=-------de-20--1--img-…
Der Grütlianer: https://www.e-newspaperarchives.ch/?a=cl&cl=CL1&e=-------en-20--1--img-…
UNITED KINGDOM
Justice (1893-1894): https://www.marx-memorial-library.org.uk/digital-resource-type/justice
UNITED STATES
The People: https://www.marxists.org/history/usa/pubs/the-people-slp/index.htm
The Chicago Daily Socialist: https://www.marxists.org/history/usa/pubs/chicago-daily-socialist/1906/…
Appeal to Reason: https://www.marxists.org/history/usa/pubs/appeal-to-reason/
International Socialist Review: https://www.marxists.org/history/usa/pubs/isr/index.htm
The Class Struggle/Advance: https://www.marxists.org/history/usa/pubs/class-struggle-advance/index.htm
The Workers' Call/The Chicago Socialist: https://www.marxists.org/history/usa/pubs/workers-call-chicago-socialist/index.htm
Die Wahrheit: https://www.marxists.org/history/usa/pubs/die-wahrheit-us/index.htm
The Social Democratic Herald: https://www.marxists.org/history/usa/pubs/social-democratic-herald-us/index.htm
The Socialist Woman: https://www.marxists.org/history/usa/pubs/socialist-woman/index.htm
[Last updated 1 November 2023]