Event: December 2018, Saint Louis, Senegal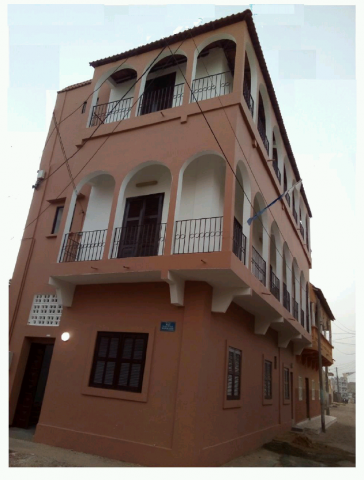 The Institute for Advanced Studies (IEA) in Saint Louis, Senegal, is a citizen initiative for:
Promoting culture, science and research in Africa;
Contributing to strengthen Africa's position in the world by mobilizing its Intelligentsia and promoting fruitful and critical dialogue with other thinkers across the world;
Bridging the gap between Africa's Intelligentsia and decision makers for more effective integration of research results in Africa's development;
Creating a forum for African researchers of different generations to share experience for excellence and innovation.
IEA is a scientific and cultural association registered under licence number N°18573/MINT/DGAT/DLP/DLA-PA on 15 December 2017. It offers a research centre for resident researchers with research topics within the premise of the Institute's programmes. IEA is open to researchers, academics, artists, writers and practitioners who are committed to innovation and a novel critique of dogmas and paradigms. It seeks to contribute in the renewal of social, political, economic and cultural thinking in Africa and the world, paying attention to individual convictions and the academic freedom for critique and creativity.
IEA Saint-Louis symbolizes Senegal and Africa's aspiration to join the chain of "centres of excellence for thinking the world" which are now mushrooming across continents. They represent a mobilized intelligentsia participating actively in debates over major African and global development issues to foster the emergence of a new humanity. The IEA Saint-Louis initiative is part of a network of like-minded institutions engaged, across different parts of the world, in promoting excellence and prospective and innovative thinking, while at the same time challenging the cultural pillars of various societies across the world. The network is made up of Institutes of Advanced Studies in the United States of America (Princeton, Stanford, Harvard and North Carolina), Europe (Berlin, Uppsala, Wassenaar and Nantes) and the Middle East (Jerusalem).
IEA Saint Louis draws on institutions like WIKO in Berlin (Germany) and IEA in Nantes (France) which promote excellence and innovation in research. But IEA Saint Louis differs from the other institutions by its unique position in francophone Africa. The main difference lies in its program for forging a pluralistic New Africa based on the continent's ontological, epistemological and axiological particularities which come from its precolonial and colonial history, internal heterogeneities and entanglements, and interconnections with other regions overseas.
We aim to work systematically on theoretical approaches derived from African realities. In doing so, IEA Saint Louis builds on an idea that Joseph Ki Zerbo expressed metaphorically as "weaving" a new "mat" for African scholarship to sit on, instead of continuing to import mats from Europe and America. We, in Saint Louis, will use materials from around the world to weave this new mat for a pluralistic New Africa that bears a pluralistic outlook on the New World.
IEA Saint Louis will kick of with two international conferences: Globalization, national languages and development in Africa (3-5 December 2018) and Colonial Cities in Global Perspective (10-12 December 2018).
More details in the attached PDF file below.