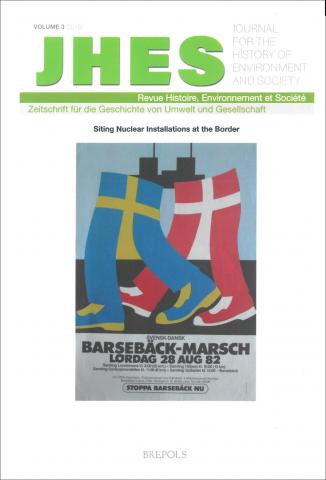 JHES3 2018 now available!
Volume 3: Special Issue: Siting Nuclear Installations at the Border
JHES-Journal for the History of Environment and Society is an open access journal that welcomes submissions on articles concerning Environmental History. JHES is published in collaboration with Brepols Publishers and can be obtained both online and in print.
CONTENTS
Editorial
JHES Editorial Board
Nuclear Installations at the Border. Transnational Connections and International Implications. An Introduction
Arne Kaijser, Jan-Henrik Meyer
Siting (and mining) at the Border: Spain-Portugal Nuclear Transboundary Issues
M.d.Mar Rubio-Varas, António Carvalho, Joseba De la Torre
"The World's Worst Located Nuclear Power Plant": Danish and Swedish Cross-Border Perspectives on the Barsebäck Nuclear Power Plant
Arne Kaijser, Jan-Henrik Meyer
The Superphénix Fast Breeder Nuclear Reactor: Cross-border Cooperation and Controversies
Claire Le Renard
East-West German Transborder Entanglements through the Nuclear Waste Sites in Gorleben and Morsleben
Astrid Mignon Kirchhof