Announcement of publication (in Spanish)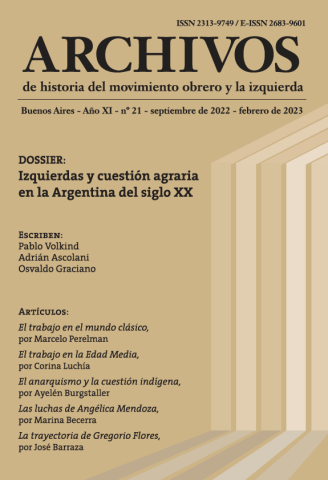 Archivos de historia 
del movimiento obrero y la izquierda
anuncia la aparición de su número 21
https://www.archivosrevista.com.ar   ISSN: 2313-9749 | ISSN en línea: 2683-9601
Índice
Dossier: "Izquierdas y cuestión agraria en la Argentina del siglo XX"
Tramas: "El trabajo precapitalista y sus formas"
Artículos libres
Crítica de libros
Archivos de historia del movimiento obrero y la izquierda, revista de acceso abierto, es una publicación científica de historia social, política, cultural e intelectual, que tiene como objetivo impulsar la investigación, la revisión y la actualización del conocimiento sobre la clase trabajadora, el movimiento obrero y las izquierdas, tanto a nivel nacional como internacional, propiciando el análisis comparativo. Es una publicación semestral (marzo-agosto y septiembre-febrero) y todos sus artículos son sometidos a referato externo con el sistema doble ciego. Las colaboraciones deben ser originales y no estar sometidas simultáneamente a evaluación en ninguna otra publicación.
Archivos de historia del movimiento obrero y la izquierda se encuentra indizada en el Núcleo Básico de Revistas Científicas Argentinas, en SCOPUS, ERIH PLUS (European Reference Index for the Humanities and Social Sciences), en el catálogo 2.0 de Latindex, en CLASE (Citas Latinoamericanas en Ciencias Sociales y Humanidades, dependiente de la UNAM), en el DOAJ (Directory of Open Access Journals) y en la REDIB (Red Iberoamericana de Innovación y Conocimiento Científico). También es parte de las siguientes bases de datos, indexaciones y directorios: EuroPub, Journal TOCs; MALENA (CAICYT); BASE (Bielefeld Academic Search Engine); CIRC (Clasificación Integrada de Revistas Científicas, de España); MIAR (Matriz de Información para el Análisis de Revistas, Universitat de Barcelona); BIBLAT (Bibliografía Latinoamericana en revistas de investigación científica y social, UNAM); BINPAR (Bibliografía Nacional de Publicaciones Periódicas Registradas); REDLATT (Red Latinoamericana del Trabajo y Trabajadores); Latinoamericana (Asociación de revistas académicas de humanidades y ciencias sociales) y LatinREV (Red Latinoamericana de Revistas Académicas en Ciencias Sociales y Humanidades de FLACSO Argentina). El CEHTI es miembro de la International Association of Labour History Institutions (IALHI).
Archivos es una publicación del Centro de Estudios Históricos de los Trabajadores y las Izquierdas (CEHTI)
Director y Editor Responsable: Hernán Camarero
Secretarios de Redacción: Diego Ceruso y Martín Mangiantini