Digitized collection (at IISH, Amsterdam)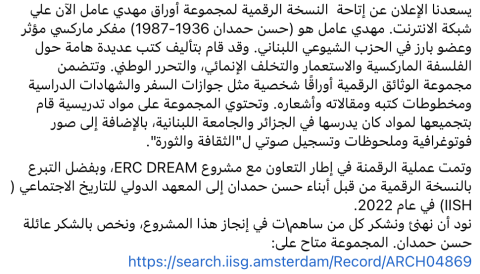 We are proud to announce that digitized papers of Mahdi Amel are available online. Mahdi Amel (Hassan Hamdan, 1936 – 1987) was an influential Marxist thinker and prominent member of the Lebanese Communist Party. Amel wrote several influential books on Marxist philosophy, colonialism and underdevelopment, and national liberation. The digital records include personal papers such as passports and diploma's; manuscripts for his books, articles and poetry; teaching materials for courses that he taught in Algeria and at the Lebanese University, photographs, and notes, as well as a sound recording of Culture and Revolution. Digitization and donation were made possible in cooperation with the ERC DREAM project. A digital copy of the records was donated by the children of Hassan Hamdan to the IISH in 2022.
We would like to congratulate and thank everyone who contributed to the realization of this project, and we especially wish to thank the family of Hassan Hamdan. The collection can be found at: https://search.iisg.amsterdam/Record/ARCH04869
Nous sommes fier.es d'annoncer que les papiers numérisés de Mahdi Amel sont disponibles en ligne. Mahdi Amel (Hassan Hamdan, 1936 – 1987) était un penseur marxiste influent et un membre éminent du Parti communiste libanais. Amel a écrit plusieurs livres influents sur la philosophie marxiste, le colonialisme et le sous-développement ainsi que la libération nationale. Les enregistrements numériques comprennent des documents personnels tels que des passeports et des diplômes; manuscrits pour ses livres, articles et poésie; du matériel pédagogique pour les cours qu'il a enseignés en Algérie et à l'Université Libanaise, des photographies et des notes, ainsi qu'un enregistrement sonore de Culture et Révolution. La numérisation a été rendue possible en coopération avec le projet ERC DREAM. Une copie numérique des archives a été offerte par les enfants de Hassan Hamdan à l'IISH en 2022.
Nous tenons à féliciter et à remercier toutes celles et tous ceux qui ont contribué à la réalisation de ce projet, et nous souhaitons particulièrement remercier la famille de Hassan Hamdan. La collection est à retrouver sur: https://search.iisg.amsterdam/Record/ARCH04869
Redha Hamdan
DREAM - DRafting and Enacting the Revolutions in the Arab Mediterranean.