Hybrid seminar, 13 June 2022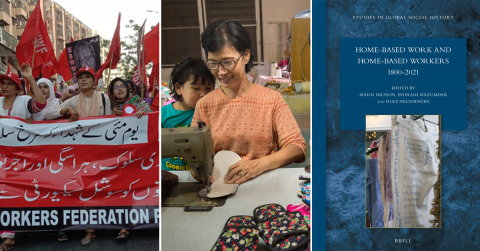 NLHN seminar: Home-based work and home-based workers 1800 to the present
When: Monday June 13th, 14:00-16:00 CET
Where: LO (the Swedish Trade Union Council), Barnhusgatan 18, Stockholm, Sweden
The seminar wil afterwards be put online - streamed to the ARAB YouTube channel:
https://www.youtube.com/user/arbarkstockholm
During the Covid-19 pandemic, the home as a workplace became a widely discussed topic. However, for almost 300 million workers around the world, paid work from home was not news. The edited volume Home-Based Work and Home-Based Workers (1800-2021) includes contributions from scholars, activists and artists addressing the past and present conditions of home-based work. They discuss the institutional and legal histories of regulations for these workers, their modes of organization and resistance, as well as providing new insights on contemporary home-based work in both traditional and developing sectors.
Join the conversation between activists and scholars specializing in home-based work and home-based workers presenting and discussing the recently published volume on the past and present of home-based work and home-based workers.
Participants:
Janhavi Dave (Home-Net International)
Indrani Mazumdar (Centre for Women's Development Studies, New Delhi)
Chris Bonner (Women in Informal Employment: Globalizing and Organizing- WIEGO)
Malin Nilsson (Lund University)
Silke Neunsinger, (Swedish Labour Movement archives and Library - ARAB)
The event will take place at LO (the Swedish Trade Union Council) in Stockholm.
Links:
ARAB:s YouTube channel: https://www.youtube.com/user/arbarkstockholm
Open Accès version of the book: https://brill.com/view/title/59700