Call for exhibits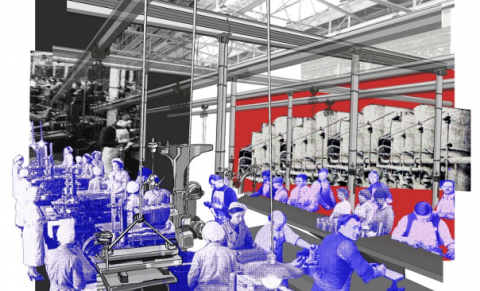 Artwork: Cansu Değirmencioğlu
ELHN Working Group Workplaces: Pasts and Presents
CALL FOR EXHIBITS
We invite proposals for exhibits for our website https://workplaces.omeka.net. Please send a maximum 300 word abstract and sample images, videos, sounds or other multimedia for your proposal to rick.halpern@utoronto.ca. The proposal should include your name, surname, current affiliation and contact details.
As a group of researchers associated with Workplaces: Pasts and Presents, part of the European Labour History Network (ELHN), we recently launched a website composed of a series of curated multimedia exhibits showcasing our ongoing research into the history of the workplace, workers' movements, and working-class culture. This initiative draws on a range of disciplinary methodologies and on the tools provided by digital humanities to archive, curate, and disseminate our findings to audiences of students, scholars, activists, and general public.
The working group brings together, in an interdisciplinary fashion, recent historical, sociological,anthropological, and visual work that present new methodological and epistemological perspectives on the study of capitalism and work. With this call, we aim to bring together historians and social scientists of different hues, as well as museum curators and documentary filmmakers, to discuss new research and artifacts that focus on the past and present of the workplace with an historical perspective.
These virtual exhibits are meant not to simply share our respective ongoing research but to work toward a new kind of storytelling that integrates images, sound, and text. Crucially, they point toward new ways of working together in a collaborative fashion despite our geographically scattered home locations. We regard the digital realm as more than simply a set of technological tools, and think that it holds the attractive promise of a democratic and egalitarian approach to scholarly work that heretofore has been performed in isolation and within rigidly hierarchical institutions. We consciously have developed a working group where anyone can contribute their knowledge and research findings, whether they belong to a university or not.
Learning about digital storytelling can be a challenge. Thus, we offer the support of a digitally trained librarian and a programmer. Working together, we devised a system of crafting flowcharts and storyboards, experimenting with layouts, and exchanging feedback on the emerging exhibits. These resources will be available to those joining our project. We welcome offers to share research, collaborate, and exchange ideas.
We already have virtual exhibits that range broadly from transnational auto worker radicalism to the gendered nature of Bangladesh´s garment workforces; from the image of the large factory and the status of women in Turkey to an analysis of how federally employed documentary photographers in the US treated the industrial workplace in the 1930s and 1940s; from workers' identities in an Argentine steel plant to the traces of the factory's past for a reconsideration of factory in the global paradigm shift of industrial development, or to the networks of glass making in India and France and the competition between Northern and Southern working classes. Please, stay in touch: much more is to come.