Blog publication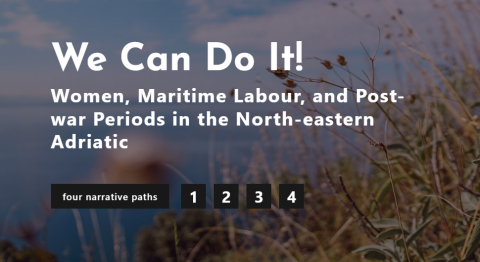 Marie Skłodowska-Curie project at the University of Ljubljana on women's maritime work in the Upper Adriatic region with a focus on the two post-WW periods (project acronym WeCanIt).
Within the project activities was created wecanit.eu, a research blog and public history website dedicated to the research topics.
To date, the wecanit.eu is structured into four narrative paths and each path corresponds to the public history outcome of the research activities of the project WeCanIt:
- Narrative Path 1 – Zone A Way of Life. Labour and Daily Life at the Time of the Allied Military Government (AMG): this narrative path deals with the socio-economic and labour situation in Zone A of the AMG-"Venezia Giulia" (1945–1947) and in Zone A of the Free Territory of Trieste (1947–1954).
- Narrative Path 2 – Ondine. Women in the Maritime Communities of the North-eastern Adriatic: this narrative path regards the relationship that binds women and fishery in the Upper Adriatic.
- Narrative Path 3 – Offshore Women. Capitalism, Labour, and Shipping: this narrative path is on the contribution of women in the Upper Adriatic seafaring.  
- Narrative Path 4 – Women of the Waterfront. Ports, Connections, Careers and Life Trajectories: this narrative path concerns the working and business activities women might be involved in port settings.
The wecanit.eu also results from an experiment in transnational scientific communication, dissemination and cooperation during the Covid-19 public health emergency. The wecanit.eu team is made up of the following: a curator (Erica Mezzoli); eight authors affiliated to seven different institutions (University of Ljubljana, Maritime Museum of Piran, Ca' Foscari University of Venice, University of Trieste, Ribiški muzej tržaškega primorja – Museo della pesca del Litorale Triestino, University of the Balearic Islands, Ionian University) located in four different European countries (Slovenia, Italy, Spain, and Greece); six translators; a project manager; a web developer; a photographer and graphic designer; a web hosting provider; a project partner. Overall, 16 people and a project partner have been involved in various capacities.
The website wecanit.eu is available in four languages: English, Slovene, Italian, and Croatian.