An OAIS should understand the intellectual property rights concepts, such as copyrights and any other applicable laws prior to accepting copyrighted materials into the OAIS.  It can establish guidelines for ingestion of information and rules for dissemination and duplication of the information when necessary.
(Consultative Committee for Space Data Systems, ''Reference Model for an Open Archival Information System,'' 3-3.)
Copyright (the right to copy) refers to the exclusive rights granted to the author or creator of an original work, including the right to copy, distribute, and adapt the work. Copyright is an intellectual property right—the author has both economic and moral rights over his creations. The 'economic rights' include the rights of reproduction, broadcasting, public performance, adaptation, translation, public recitation, public display, and distribution. The 'moral rights' refer the right of the author against distortions and mutilations of his works and offenses on his honor or reputation. The author can decide on the use of his work, which is protected by copyright without the need for formal registration. These rights can be granted or denied to third parties by the author, but they are limited in duration by national laws (in general, fifty to seventy-five years after his death, depending of the type of the work). Copyright protected works cannot be used ('copied') without the authorization of their author (or the owner of those rights). Importantly, even unpublished works (e.g. manuscripts, oral histories, photographs) are protected by copyright laws for a specific period of time, which is often longer than protection for published works.
In the European Union (EU) copyright is expressed in the Copyright Directive from the European Parliament (Directive 2001/29/EC). The definition of the property rights associated with copyright and related rights distinguishes: 1) the 'reproduction right' (in the digital environment: if you can legally download work from the internet, it is because the author has given his agreement and authorizes its reproduction); 2) the right of 'communication to the public' (in the digital environment: if you can legally listen to a song on a website, it is because its communication has been authorized); and 3) The right of 'making available to the public' (including interactive transmission on the internet). However, copyrights and the neighboring rights of producers, broadcasters, performers, and designers are generally regulated and enforced through specific national laws.
HOPE assumes that content providers will take the full responsibility for clearing copyrights on the digital objects and metadata that they offer to the federated service. Before submitting material to HOPE, a content provider should be in full knowledge of its own rights and obligations over the given material and associated metadata (including thumbnails). Regardless of the copyright status of the material, HOPE content providers should maintain records (i.e. diligence files) on all copyright-related issues; this includes deed of gift agreements, agreements with copyright holders, and records documenting efforts to reach creators or other rights' holders of orphan works.
Material and metadata may be submitted if:
''They are in the public domain.'' If a content provider determines that a specific work falls under the public domain, then the work may be disseminated without exceptions. A work generally enters into the public domain due to the passage of time or the explicit decision of the author or creator (or any representative or successor). Importantly, in this case the less-tangible moral rights of the author remain.
''Licenses or agreements are in place giving the content provider limited rights to reuse and/or disseminate the content.'' If the copyright holder is known, the content provider must obtain the rights to use the work and make it available, specifically for non-commercial use and online publication. In general, this includes at minimum the right to publish thumbnails/previews and other low resolution copies online, while the responsibility of obtaining the rights to reuse the original work or a high-resolution publication quality reproduction often remains with the end-user.
'''Due diligence' has been exercised for orphan works.'' If the work is surely or likely under copyright protection, but the copyright holder cannot be located or the author or creator (or any representative or successor) is unknown, the work is deemed an orphan work. In this case, the content provider should be prepared to exercise due diligence in identifying and contacting the copyright holder, keeping a paper trail of all steps taken.
''The copyrights are owned by the content provider.''  
In particular, the content provider must have the rights to publish all metadata submitted to HOPE under a CCO 1.0 Universal Public Domain dedication. The content provider must also have obtained the rights to publish online an access copy (so-called derivative 2) and a thumbnail/preview of all content slated for delivery to Europeana; the right to publish a thumbnail/preview must also be transferrable to Europeana.
Importantly, if the content provider does not have physical ownership of the original material, the institution's rights are circumscribed by the terms of the deed of gift agreement and are likely to be severely limited. Donors may in full right regulate access and reproduction on the basis of physical ownership of the materials. Older deed of gift agreements in particular may not include provisions for online access. Before submitting material to HOPE, it may be necessary to renegotiate and update agreements with donors.
It is important to emphasize that all licenses and permissions should be obtained  before the reproduction and the dissemination of HOPE materials.
Licensing HOPE Content for Reuse
HOPE requires content providers to assign use rights metadata to all submitted content. Metadata should be taken from the controlled list of Europeana rights statements. According to Europeana, four types of rights statements can be applied to digital objects:
Objects not protected by copyright should be marked as being public domain by applying the Public Domain Mark.
When the content provider is also the rights' holder and wants to make the digital object available for reuse (or has been authorized by the rights' holder to do so) the content provider can apply a Creative Commons license.
When the content provider is the copyright holder or has obtained a license from the copyright holder and wants to make the digital objects available without authorizing reuse by third parties, the content provider can apply one of the three available Rights Reserved statements (Rights Reserved – free access; Rights Reserved – paid access; Rights Reserved – restricted access).
Digital objects whose copyright status is unclear (for example because no rights' holders could be identified) can be marked with an Unknown copyright status statement. This should be used only if absolutely necessary.
(See: Semantic Harmonization, section on Value Types Selected for Normalization.)
By mandating the use Europeana rights statements, HOPE has contributed to the standardization of in-house procedures for identifying copyrights and assigning appropriate metadata, while at the same time ensuring a uniform end user experience. Importantly, such an approach not only supports the HOPE service, it also fosters broader content sharing among social history institutions.
Dissemination to Discovery Services
Discovery services, like Europeana, the Social History Portal, and social sites, have their own standard licenses, rights statements, and attribution clauses. HOPE's default dissemination profiles to discovery services have been gauged to forestall rights problems. Importantly, HOPE content providers must ensure that material submitted to HOPE is assigned the appropriate level of access—'open' or 'restricted'. HOPE does not accept descriptive metadata on 'closed' material. (For the purposes of the three-year project, HOPE has accepted only openly available content.)
The Social History Portal is HOPE's primary portal and as such publishes all content submitted to HOPE, including metadata for non-digital or restricted content. The Social History Portal (under the aegis of the IALHI Network and Foundation) accepts and republishes metadata under the terms of the CC0 1.0 Universal Public Domain dedication, whereby metadata "is licensed non-exclusively, unconditionally, free-of-charge for all types of use and for all territories to the public." For open content, the Social History Portal is permitted to publish all previews and access copies provided to HOPE and/or to produce thumbnails based on this submitted content. The portal uses Europeana rights statements to re-license content or regulate its use.
Europeana (under the aegis of the Europeana Foundation) accepts metadata on publicly available digital content only. The Data Exchange Agreement between the HOPE project and Europeana includes a provision permitting Europeana to create thumbnails/previews from access copies and to reuse metadata. Europeana accepts and republishes all metadata under the terms of the CC0 1.0 Universal Public Domain dedication. The reuse by third parties of the thumbnails/previews provided by Europeana takes place under the licensing conditions that apply to the related content; HOPE's use of the Europeana rights statements ensures the clear communication and transfer of rights. Finally, content providers are obliged to deliver to Europeana information related to the IPR status of the materials shared.
Most discovery services, including social sites and thematic portals, only accept metadata along with digital content (at minimum thumbnails/previews). Providing content, even low-quality reproductions, remains problematic. Without clear re-licensing schemes in place and a defined method for assigning, submitting, and expressing such licenses, it remains difficult for HOPE to disseminate content widely to these services. By default, only Public Domain HOPE content will be shared on large-scale social platforms and discovery services. It is recommended that before defining local dissemination profiles, HOPE content providers confirm that submitted material is appropriately licensed for broad reuse.
Finally, HOPE recommends that the Social History Portal include the following rights related notices: 1) a copyright notice indicating permitted use of the content available on the site and explaining take-down policies for orphan works; 2) a disclaimer against claims of copyright infringement; 3) terms and conditions over the use of the content; 4) credits covering all individuals and organizations involved in the project and including contact information; and 5) a statement of ownership of each content item shared in the portal. HOPE recommends that social history institutions place similar notices on their institutional sites. HOPE also recommends the following digital fair and open practices for social history institutions: 1) limits on access should not be set purely on the basis of physical ownership nor without definite time limit; 2) reproduction fees should be set on the basis of cost recovery; and 3) institutional notice and take-down policies should be employed for cases involving orphan works, in which the copyright status of online material remains unclear despite due diligence.
IPR in the Social History Domain
In a majority of traditional memory institutions, material passes from one state institution to another in an unbroken chain of custody. In social history institutions, deposits/donations are made by the private, political, or non-governmental organizations or the individual political and social activists, journalists, or researchers who have custody of the documents. Records have often been collected, rather than created, and donors are under no mandate to reconstruct or record the chain of custody for each group of records. As a consequence, creators, previous custodians, and other stakeholders may be unknown or difficult to locate.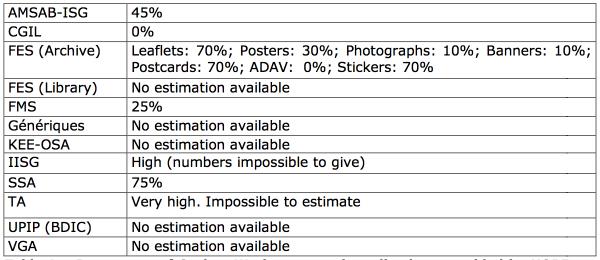 Table 2-A - HOPE Content Provider Orphan Works:''' Estimated percentage of holdings for each HOPE content provider which are orphan works.
Issues which complicate IPR clearance for social history collections include inter alia:
Chain of custody broken or unclear due to conflict situations (civil wars, revolutions, dissolutions, colonial situations, etc.), natural disasters, or simply to the informal method of producing/collecting material;
Diverse stakeholders often with limited knowledge of IPR, among which the immediate donor often takes pride of place—rightly or wrongly—in determining public availability and (re)use of material;
The international nature of some material, often transmitted across multiple borders in the process of creation, distribution, and collection, thus defying the geographical basis of copyright law;
The political or controversial nature of some material;
The unstable or informal nature of some material, such as epistolography, grey literature, underground or informal press, personal photos, and drafts or versions;
A multiplicity of original and reproductive media, such as paper, photography, cassettes, discs, and digital media in formats created for several purposes (e.g. access, publication/exhibition, preservation).
These complex realities hamper the efforts of social history institutions to identify potential rights' holders, to determine applicable copyrights, and to obtain and express the right to manage, distribute, and reuse social history material.
The need to make materials available online via the internet has undoubtedly exacerbated the situation. The access of a lone researcher to the physical copy of an archived documents stored in situ at an institution is indeed very different to the open access provided to the same documents over the internet. Today's institutions exist in two parallel realities: on the one hand, providing closely-monitored access to physical originals; and on the other, enabling unidentified and almost impossible to control access to documents online. The distinction between providing access and publication is blurring. While search engines like Google or portals like Europeana have opened the field to new prospects, the development of content industries has increased commercial interest in content of all types, bringing these issues directly to the doorsteps of repositories and rights' holders.
Despite (and in part as a result of) these changes, archives, libraries, and museum still play an important role as purveyors of culture. Inclusion in a repository is generally viewed to increase the impact of an individual work and the standing of its creator, and a work's broad availability to researchers and the general public can only further enhance its importance. Nevertheless, it is important to balance the desire to promote access to culture with the due protection of the authors' rights over their work—to balance dissemination with custodianship. With their long experience in these matters, social history institutions are in fact well positioned to negotiate copyright clearance for cultural works.
In this regard is it important that HOPE's IPR conditions do not prevent content providers from storing closed content in HOPE's common safe storage Shared Object Repository (SOR). As a basic principle HOPE promotes open access to social history collections and discourages content providers from using technical means to prohibit access and reuse. On the other hand, it acknowledges that social history institutions are often prohibited from fully opening up collections, due to copyright, data protection, or donor embargoes. Open Archival Information System (OAIS) repositories must support short-term restrictions with long-term access as the fundamental goal.