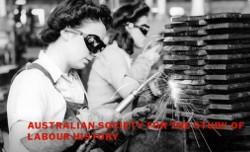 The Australian Society for the Study of Labour History was founded in 1961 to study "the working class situation … and social history in the fullest sense". The Society aims not only to encourage teaching and research in labour history, but also the preservation of the records of working people and the labour movement. It desires to make history a vital part of popular consciousness, a matter for reflection and debate, at a time when it is under attack from prominent conservative intellectuals.
The Society draws its membership from labour movement activists, community historians, teachers, and scholars in many fields. It also maintains close links with the international community of labour historians.
The Society has branches in the ACT, Brisbane, Sydney, Illawarra, Melbourne, Adelaide and Perth. Branches are involved in labour history and research, and heritage preservation. They publish newsletters, hold regular talks and conduct special events, usually in conjunction with the labour community. The Society and its branches receive strong support from the trade union movement.
It holds a biennial national conference that attracts several hundred participants.