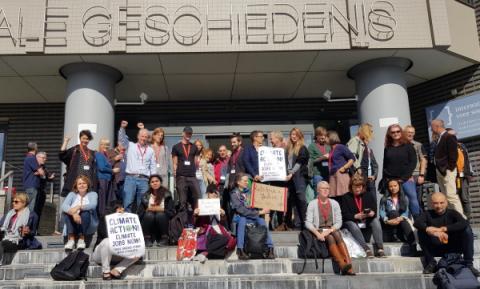 Conference, 18-21 September 2019, Amsterdam, The Netherlands
The Third Conference of the European Labour History Network (ELHN) took place in Amsterdam, The Netherlands, from 18 to 21 September 2019, at the International Institute of Social History, same location where the ELHN was established in 2013. The third edition of the ELHN Conference drew 235 participants from 40 countries, who discussed all aspects of labour history in 55 sessions, including 2 round tables.
Workgroups were given the opportunity to have their own work group meetings and a coordinator meeting was organized so that all coordinators could convene. The next ELHN conference will take place in Vienna in 2021.
The Amsterdam 2019 edition of the ELHN Conference was hosted by the International Institute of Social History (IISH). The IISH organizing team consisted of Stefano Bellucci, Els Kuperus, Marcel van der Linden, Matthias van Rossum, Jacqueline Rutte and Filipa Ribeiro da Silva. The team was helped by Donald Weber from Amsab-ISH who took care of the calls and announcements on the ELHN webpages, and of course with the never ending help of the IISH facilities department.
Besides the parallel sessions there were keynote speeches by Marcel van der Linden, Why are traditional labour movements in trouble? and by Samita Sen, Care, Domesticity and Work: Some Critical Questions from the Global South. After this keynote we had a well visited reception.
Three walking tours through Amsterdam were organized: Black Amsterdam by Mark Ponte, Poor and Rich Amsterdam by Henk Looijesteijn and Radical Amsterdam by Marten Dondorp. There was also room to pay attention to the Global Climate Strike.
We organizers feel that this conference was a fruitful forum for discussing the (global) history of labour from the perspective of its diversity and universality. We are pleased to see that the network keeps expanding and we wish the 2021 organizers good luck.