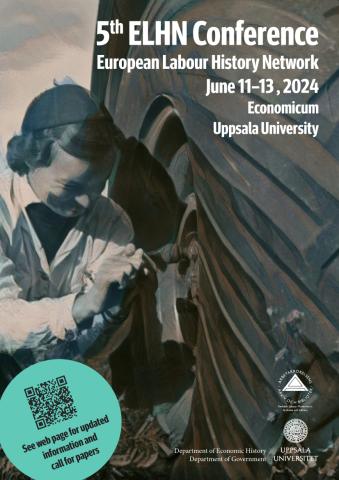 ELHN Conference
11-13 June 2024: Uppsala, Sweden
Uppsala University (Sweden)
Local organizer: Arbetarrörelsens arkiv och bibliotek | Swedish Labour Movement's Archives and Library
Contact Persons: Jenny Jansson, Silke Neunsinger, Jan Ottosson & Jonas Söderqvist | elhn@iisg.nl
The 5th conference of the European Labour History Network will be held at Uppsala University in 11-13 June 2024 and in a hybrid setting. Proposals for sessions and papers (including session titles, abstracts, titles of the papers and names of presenters/affiliation and an indication of whether they are participating onsite or online) should be sent by 30 September 2023. 
Call for papers and sessions are sent out from each of the working groups within the network. They also plan and arrange their own streams during the conference. If you would like to participate with a paper presentation or suggest a session, please look through the different calls made by the working groups, in the list below, to see where you would be most interested to participate. If you don't know or can't find a call that matches your research interests, please send your paper to the local organizers (at elhn@iisg.nl) and we will get you in contact with an appropriate working group.
Please note that there are separate deadlines for each call, ranging from August 15 to September 30, 2023. Make sure to check the correct deadline for the call you are submitting your paper to.
List of call for papers: