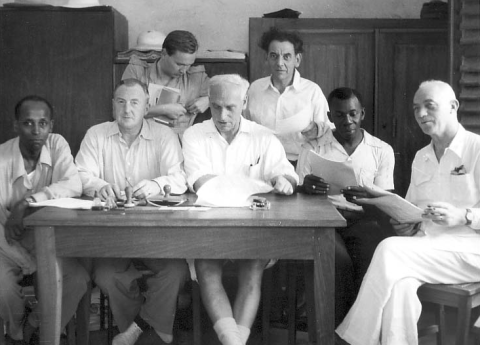 Mission
The global turn has helped to revive the study of labour in imperial, colonial and post-colonial contexts. The Labour and Empire Working Group, co-ordinated by Yann Béliard and Gareth Curless, aims to provide a forum for historians to share new and emerging labour history research relating to Africa, Asia, the Americas, and the Middle East, as well as the European imperial metropoles. Contributions from early career researchers are particularly welcome.
Scope
Activities
Since its formation in 2013, the Working Group has organised five conferences. The first was held at the Paris 3 – Sorbonne Nouvelle University on 15 November 2013. The conference, Labour and Empire in the Age of Decolonisation, covered a range of topics, including anti-imperial labour activism in Britain, labour unrest in 1950s East Africa, and the place of empire and the 'labour question' in Labour Party debates. A selection of papers from this conferences is scheduled to be published by Liverpool University Press as part of a volume edited by Neville Kirk and Yann Béliard.
Since the 2013 conference, the Working Group has organised four further conferences in Turin (2015), Nanterre (2017), Paris (2018) and Amsterdam (2019). Contributions to these conferences have reflected the renewed vibrancy of labour history. Topics have included the often blurred boundary between free and unfree labour, labour (im)mobility, labour and colonial violence, gender and the labour question, maritime labour, transnational activism, and the relationship between class, labour and empire.
See the Seminar Series 2022-2023 programma
Contact
The co-ordinators of the group welcome enquiries from prospective contributors and members, as well as suggestions for future events and collaborations. If you would like to be added to the mailing list, with a view to being notified about upcoming conferences, workshops and CfPs, please contact Yann Béliard (yann.beliard@sorbonne-nouvelle.fr), Gareth Curless (g.m.curless@exeter.ac.uk) and Lorenzo Costaguta (lorenzo.costaguta@bristol.ac.uk).
External links
[last updated 6 October 2022]