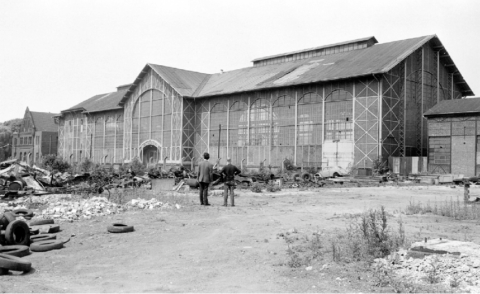 Mission
The ELHN Working Group Memory and Deindustrialisation explores historical cultures of labour under conditions of deindustrialisation in the broadest sense. It involves scholars from Europe and other countries around the world, with a strong focus on industrial heritage in (former) regions of heavy industry. Its mission, however, is to transcend this theme and drive it into two directions by encouraging comparative studies between cities, regions and nations in Europe and around the world.
On the one hand, the group aims at a better understanding of the various ways societies have articulated their historical consciousness of the industrial era. What were the problems and challenges of public memory of labour? Who are the agents in the memory regimes of the former worlds of labour? What are useful methods to study and represent the history of labour?
On the other hand, the working group responds to the growing importance of deindustrialisation studies. While scholars have recognised the significance of industrialisation to modern culture, politics, economy, society, and the environment, we are moving slowly to an understanding of the deep impacts of deindustrialisation processes on the contemporary world. How can we approach these historical processes from interdisciplinary and transdisciplinary perspectives (involving non-academic institutions as museums and associations)? How can deindustrialisation be managed, locally, nationally and internationally? What are the emotional, cultural and social consequences? How does it affect labour relations? How has deindustrialisation affected political cultures in general? How have different historical cultures of labour been articulated along the deindustrialisation processes? And what were the imagined futures in the past, how have they changed under conditions of deindustrialisation?
These and many other fascinating questions are discussed in the forum offered by this working group.
Activities
The group has annual themes, and at least one meeting per year. It promotes multilateral and bilateral collaborations. Several workshops have taken place since the founding of the European Labour History Network:
"Historical Cultures of Labour under Conditions of Deindustrialisation", 1st Conference of the European Labour History Network, University of Turin, 2015
"(Post-)Industrial Narratives: Remembering Labour and Structural Change in Oral History", German Mining Museum, Bochum, 2016
"Deindustrial Landscapes: the (more-than) representations of industrial decline", 2nd ELHN conference, Paris, 2017
"Scene and Screen – Cultural Representations of the Industrial Past", University of Oviedo, Mieres/Gijon, 2018
"Deindustrialization: The Structural Transformation of Nord-Ovest and the Ruhr in Comparative Perspective", German Historical Institute, Rome, 2018 - See the book published here
"Industrial Heritage Activism", 3rd ELHN conference, IISG, Amsterdam, 2019
"Memoria, historia e identidad en contextos de desindustrializacion", Mieres (online), 2020 - See the conference notice by Ruben Garcia below
"Remembering Toxic Pasts? Memory, Deindustrialisation and the Environment", 4th ELHN Conference, Vienna, 2021 - Read the conference report here
"Futures in the history of deindustrialization", Museum of Industrial Heritage, Bologna, 13-15 October 2022
See flyers attached.
Contact
External Links
[last updated 16 December 2022]