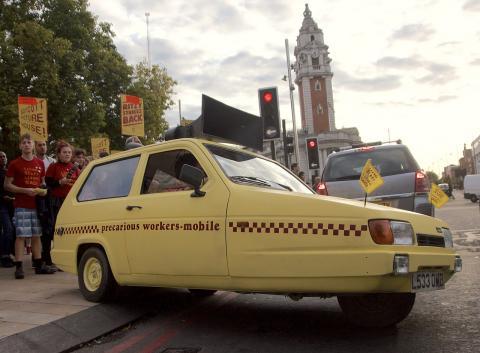 Mission
The ELHN Working Group Precarious Labour brings together scholars that are interested in the history of precarious labour all over the world. The Working Group's objective is to study precarity in all its manifestations and effects as well as to animate discussions about conceptual issues, workers' responses and making global comparisons and connections. The Working Group welcomes scholars anchored in various disciplines and investigating different historical periods.
Scope
As argued by global labour historians, precarious labour is neither a recent nor a unique phenomenon. The working group aims to discuss research related to a broad range of topics and themes around precarious labour. Guiding research questions might address but are not limited to some of the following problems:
First, the working group is interested in conceptual debates on precarity. How can the concept of precarious labour prove useful as a historical category? What has been perceived as precarious labour in different regions around the world and how have perceptions of precarity changed over time? What has been, in the Global South and the Global North, the normative employment standard against which precarious labour falls back? Can we benefit from understanding precarity as processes and social relations rather than a categorization?
Second, the working group is interested in examining social groups that work under precarious conditions. In which economic sectors has precarious labour been most prevalent? How do different social factors such as gender, race, ethnicity, migration, age, education, and language, relate to precarity?
Third, the working group is interested in studying the workers' manifold responses to precarious labour and precarious conditions. What kind of collective responses from workers, both within and beyond traditional trade union frameworks, have emerged in order to fight precarious labour? What is the relationship between precarity and organized or non-organized labour? How do formal and informal collective actions interact?
Activities
The working group will serve as a forum for members to discuss ongoing research, work on joint proposals, and prepare workshops and conferences. The working group also aims to create a newsletter where conference announcements and other useful information can be shared easily. Furthermore, the coordinators of the working group will make suggestions for sessions at the biannual ELHN conferences.
The working group was officially launched in October 2022. The first activity will be a panel at the ESSHC 2023 in Gothenburg: Precarious Labour and Collective Responses from the Local to the Global, 1920s to Present Day.
Contact
If you are interested in joining the Working Group on Precarious Labour (i.e. be included in our email-list and receive information about our planned activities) please write to one of the coordinators, giving the following information: Name, Institution (if any), e-mail address, thematic focus/interest.
The working group's coordinators are:
External links
[last updated 16 December 2022]